Jurgen Klopp insists he "couldn't care less" about Darwin Nunez's open-goal miss against Toulouse, instead focussing on the "incredible" things he did elsewhere.
The Reds ran out comfortable 5-1 victors over the Ligue 1 side to extend their run in Europe to three wins in a row, with Nunez adding his name to the scoresheet to make it 3-1 in the first half.
A clever bit of play saw the Uruguayan take the ball around goalkeeper Guillaume Restes shortly after the hour mark, only for the post to deny him a brace despite having nobody else left to beat.
Ryan Gravenberch was able to pick up the pieces and convert from the rebound, with Klopp philosophical about the chance that passed his striker by in the second half.
"He played incredible. Honestly, in this moment, I don't think I could care less that he hits the post," said the boss as he reflected upon the win in his post-match press conference.
"Everything before was super-convincing, was absolutely clear, how he took the defender away, how he passed the goalie, it was a perfect situation.
"He played really good, the goal he scored, the situations he was involved, dropping into midfield, staying on the ball, all these kinds of things. There were a lot of good things."
Nunez already has five goals to his name in all competitions so far this season, having fallen somewhat out of favour with Klopp towards the end of 2022/23.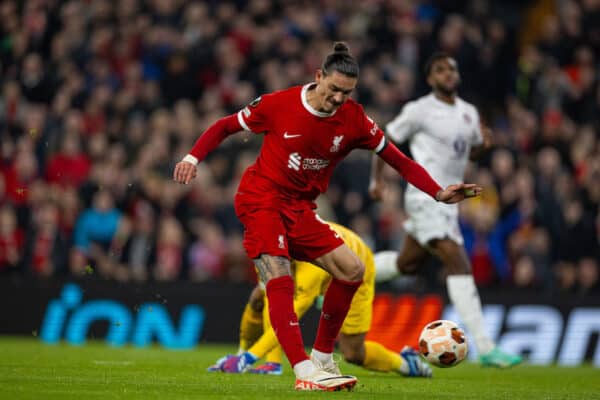 The manager described it as a "good moment" for his No. 9 and that the intention is for things to remain that way for the foreseeable future.
"He is in a good moment and that's, for us, obviously important," he continued.
"I'm really pleased for him, for the performance – and yes, it's a bit of slapstick that a ball doesn't go in, then Ryan finished it off and it's cool.
"I said before the game, he's a happy boy, or man, in the moment. You can see that every day. Now we have to make sure it stays like that."