Luton look to have drawn inspiration from WWE when defending their set pieces, and in the eyes of Jurgen Klopp, their moves would have resulted in "a good point score."
It was a physical contest at Kenilworth Road and the Reds were drawn into Luton's show, allowing the game to stop and start with 20 fouls awarded by referee Andy Madley.
But the newly promoted side went 'over the line' when it came to their "wrestling" approach to defending, though Klopp knows it goes unpunished and, therefore, why should they stop.
It is one of the inconsistencies we have seen from officials, and Randy Orton would be proud of Luton's Teden Mengi after he all but RKO'd Virgil van Dijk to the ground when defending a corner.
WWE tackle on Van Dijk…no penalty given.pic.twitter.com/L9ouU4sbUm

— Anything Liverpool (@AnythingLFC_) November 5, 2023
The Reds thought they should have a penalty but nothing was forthcoming, Klopp ultimately received a yellow card after the shouts – and the approach from the hosts was not quite to the manager's liking.
"I respect a lot what they do, but the way they defend set-pieces, if you watch it back, that's wrestling," Klopp said of Luton's approach to defending.
"It's not on the edge, it's on the wrong side of it. But they don't get punished, so why should they change it?
"But there was a little bit of discussion around that, not when they scored the goal, before – when Virgil's opponent brought him down.
"I think it was a good point score in wrestling."
It does make you wonder what the threshold to grappling and dragging players down in the box is, though from the example at Luton, you would say it is extremely high.
And while Klopp felt Luton's wrestling was "on the wrong side" of what is acceptable, their manager, Rob Edwards, welcomed the physicality as he did not want to see his side "roll out the red carpet" for Van Dijk and Co.
"There's always going to be little bits that he might have a little bit of a chew about, but I'm really pleased with how we defended those moments," Edwards said on the matter.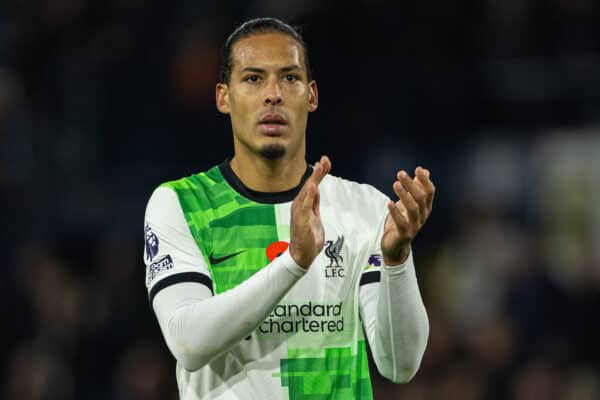 "It is a physical game still – I'm not saying to foul, far from it – but we've got make sure that we don't just roll out the red carpet and go 'there you go Virgil, have a nice free header mate'.
"Our aim is not to [get under his skin], he's a winner and he won't be pleased with certain bits, that's fine.
"But we've got to do what we've got to do, we've got to find a way to get a result – which is very hard against a team like that."