Luis Diaz has dedicated his emotional stoppage-time equaliser against Luton to his father and all of the other people who have been kidnapped in his home country.
The forward returned to the Premier League for the first time since both of his parents last weekend, with his mother having since been rescued by the authorities.
Diaz came off the bench to rescue a point for the Reds, heading home from Harvey Elliott's late cross to level the scoring in the 95th minute.
He revealed a message underneath his shirt for his missing father Luis Manuel Diaz after scoring the goal, which read "LIBERTAD PARA PAPA" in Spanish and translates to "FREEDOM FOR DAD" in English.
Taking to Instagram after the game, Diaz delivered a message to the kidnappers which asked for the "prompt release" of his father.
Today the player is not talking to you about football, today Lucho Diaz, the son of Luis Manuel Diaz, is talking to you. He is my dad, he is a tireless worker, our pillar in the family and he is kidnapped.
I ask the ELN for the prompt release of my father, and I ask international organisations to intercede for his freedom.
Every second, every minute our anguish grows; my mother, my brothers and I are desperate, distressed and without words to describe what we are feeling. This suffering will only end when we have him back home.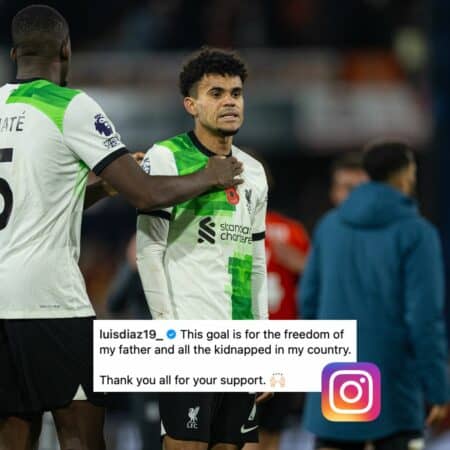 I beg you to release him immediately, respecting his integrity and ending this painful wait as soon as possible.
In the name of love and compassion, we ask that you reconsider his actions and allow us to recover him.
I thank Colombians and the international community for the support received, thank you for so many demonstrations of love and solidarity in this difficult time that many families in my country find themselves living.
Jurgen Klopp admitted it was "emotional" to see the No. 7 get on the scoresheet in the dying moments, but insisted that the "real problem" has not yet been resolved.
The manager added that he had heard of "optimistic" updates about the ongoing negotiations to free Luis Manuel Diaz, but that the process is not yet complete.
We hope to hear more positive developments in the coming days and thoughts are naturally with Diaz's family at this extremely distressing time.