Jurgen Klopp confirmed what we all feared with Andy Robertson requiring surgery on his shoulder, and the manager has already identified at least two solutions beyond Kostas Tsimikas.
Andy Robertson has been in fine form this season but will be lucky to play again in 2023 after the club decided to go down the surgery route after consulting a number of experts.
"That means he will be out for a while," Klopp said. "Don't know exactly how long, but a shoulder surgery is not an easy on."
Liverpool have little choice but to make plans without Robertson now and Kostas Tsimikas is the obvious candidate to step straight in, but Klopp knows he cannot nor will he be the only option.
"Thank god it is not only Kostas we have for that [left-back] because for the amount of games we would already be a bit short," Klopp said.
"We have Joe Gomez who can play the position and we have Luke Chambers and other young boys who show up in training quite frequently.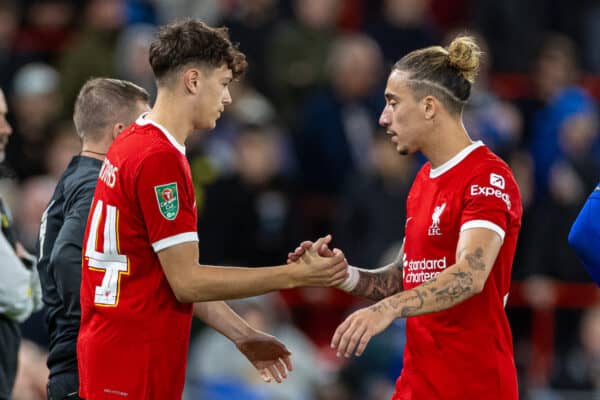 "You see the young boys showing up, that's good. There is a lot of talent in there, you need options there, that is clear.
"Kostas is definitely the most experienced in the position, so that's good, but he cannot play all the games from now on, so we need other options and that's what we have to make sure, that we can use all of them."
There will be plenty of responsibility placed on Tsimikas' shoulders for the foreseeable, and that will see him play more than two league games in a row for the first time in his Liverpool career.
With the left-sided position effectively a third centre-back in this new system, Gomez would be a safer defensive option for the Reds and he is more than adept at being what Liverpool need him to be.
Chambers, who made his debut against Leicester in the League Cup, is back in training on Friday after "a little ligament issue" and stands to benefit from Robertson's injury, as too Calum Scanlon who was part of first-team training on Thursday.