They have had their era of dominance and Liverpool have had theirs, Man United have caused nightmares and vice versa. But is the rivalry really the Reds' biggest?
Liverpool are not short on rivals, and some sets of supporters really want to claim one with them, but they are not manufactured nor do they become one just because someone proclaims it to be.
They are interwoven thanks to years and, in most cases, decades of going toe to toe and when Liverpool and Man United meet, it is rightly regarded as the biggest game in English football.
The two teams are divided by a 30 mile stretch of road and, in fact, have plenty in common, and that includes one-upmanship after respective eras of success.
Speaking on this week's Wednesday episode of This Is Anfield's YouTube and podcast series with the Late Challenge Podcast, Paul Cope and Gareth Roberts discussed and debated the Reds' rivalries.
"The reason this is my biggest rivalry, and loved those [results] more than any others is that my adult life was spent having to watch them win everything," Cope said of United.
Many know that pain all too well as before the 7-0, 5-0 and 4-0s under Jurgen Klopp, there were few moments for Reds to revel in against United, but the shoe was on the other foot once upon time.
"They feel the same way as well, that's the thing," Roberts said. "I remember saying to one [United] lad, 'tell us about hating Liverpool, what it felt like'.
"He was like, 'Ian Rush just used to score every week, you'd always win, you did this and that'.
"All the stuff we say about them, they said about us. We had our era and they had their era.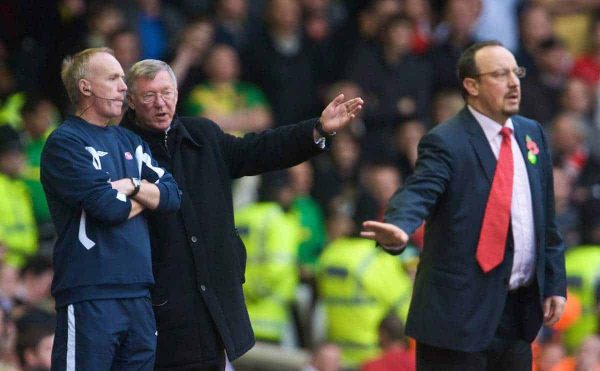 "I used to hate that thing about it all comes around in cycles, obviously it felt like it never would because they just kept winning and we went 30 years without the title.
"You were like, where's this cycle?"
It has turned around in the Reds' favour in recent years, thankfully, and as Roberts exclaimed, one would hardly believe it if they were told a few years ago that "you're going to beat Man United 7-0, go to Old Trafford and see Liverpool score five. You're going to batter them to such an extent they're going to walk out, what days they were."
Expanding on the similarities that exist between the two team and cities, Cope explained: "Every element of a rivalry, we've got it.
"We are two brothers who are so similar to each other but can't f**king stand it, can't stand that their brother is so similar to us and we need to be better than them.
"We are very similar cities, with very similar tendencies and make ups. It means more when you're both up there and competing."
---
* Paul Cope and Gareth Roberts are speaking on a new show from This Is Anfield and The Late Challenge Podcast.
There is a live show that airs each Monday at 5pm (UK) on This Is Anfield's YouTube, with our second show each Wednesday.
You can also listen as an audio show, here.