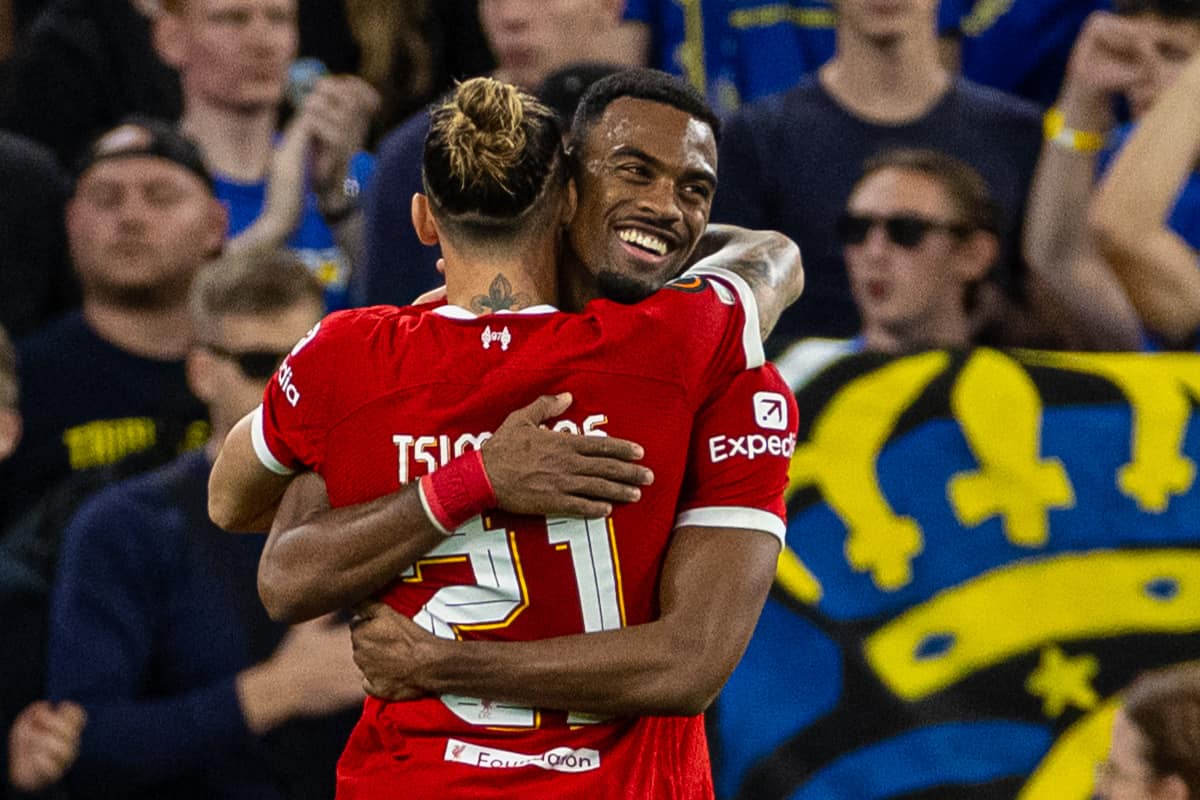 Liverpool eased to a 2-0 victory at home to Union SG in the Europa League, and many supporters singled out the performances of two Reds players in particular.
The Reds hosted the Belgian side on Thursday evening, and it was nice to see on-pitch action take centre stage after a dramatic week of VAR controversy.
Ryan Gravenberch capitalised on some poor goalkeeping to give Liverpool the lead before half-time – his first goal for the club – before Diogo Jota sealed the win in stoppage time.
It means the Reds have maximum points from their first two Europa League games this season, with attention now turning to Sunday's trip to Brighton in the Premier League.
Here's how Liverpool fans reacted to the win on social media and in This Is Anfield's comments section.
It certainly wasn't a classic, but Liverpool got the job done…
Take the win and move on. 100% we don't want this one replayed.
A win is a win. #LFC.

— Si Steers (@sisteers) October 5, 2023
Liverpool have followed up one of the most controversial games in decades with a match less entertaining than The Harry Hill Movie.

— Henry Jackson (@HenryJackson87) October 5, 2023
This is what we call a pic.twitter.com/yTCilV9Id6

— ? Anthems For A Twenty-Three Year-Old Man (@DFakExGoalanke) October 5, 2023
"Jesus Jurgen you made that difficult for us. Roll on Brighton"
– John Gardner on Facebook
"Should have been easier…job done…3pts!"
– ReddLFC in the This Is Anfield comments
Union SG's support has been the best thing about this game

— Dinesh Kumar (@DHardayal) October 5, 2023
This could be the worst game I've ever watched.

— Green Scouser (@Green_Scouser) October 5, 2023
Will be kind and call that a 'taking care of business' kind of night. With six points on the board, #LFC are in a very strong position – can probably get through with a win and a draw and still four games left.

— David Comerford (@Dave_Comerford) October 5, 2023
Gravenberch was a star performer at Anfield, with many impressed by him…
The more I see of Gravenberch the more I question what happened in Munich for him to only get 5 starts in all competitions last season. Got a goal and two assists for us already. We've gone from the most depressing midfield in the world to one of the most exciting.

— barry (@BackseatsmanLFC) October 5, 2023
Bayern have let a gem go without realising

What a player Gravenberch is & will become. ? pic.twitter.com/yAeA0eSXlZ

— Liam ? (@LiamMLFC) October 5, 2023
Ryan Gravenberch is the first player to either score or assist a goal in each of his first three starts for #LFC in all competitions since Milan Baros in September 2002.

— Michael Reid (@michael_reid11) October 5, 2023
"I think Grav might just get the nod ahead of Elliot and Endo for the 3rd MF spot for the weekend."
– Maninder Singh in the This Is Anfield comments
Gravenberch was the star of the show in the first half.

Scored the goal, completed 3/4 dribbles and won 4/5 of his ground duels. pic.twitter.com/vWBeK6QWmo

— Sam McGuire (@SamMcGuire90) October 5, 2023
Gravenberch is as mad as a box of frogs and I love it.

— Chris Pajak (@mrbloodred) October 5, 2023
WHAT AN ABSOLUTE GEM

First of many goals from Gravenberch. pic.twitter.com/HrlWf48YUN

— Liam ? (@LiamMLFC) October 5, 2023
Jarell Quansah also impressed greatly once again…
Quansah looks so composed at the back, we might have found another ? pic.twitter.com/ln0OdQ6rZC

— Anything Liverpool (@AnythingLFC_) October 5, 2023
Quansah is a legit first team player.

— Danny (@dlmjnk) October 5, 2023
"What a rock Quansah is"
– disqus_CK8gOUKU7j in the This Is Anfield comments
Quansah has really good temperament and calmness when he has to defend you need that to get to the next stage. Not seen that from any of the other CBs we've tried to bring through

— R8 ?? (@Nabyllionaire) October 5, 2023
Lots of things for Jarrell Quansah to learn and lots of space for him to improve but there is definitely a player of rich potential in that big frame. This isn't saying he's going to become world class, it's simply acknowledging a young man with a lot of ability ?

— Dominic King (@DominicKing_DM) October 5, 2023
Job done. Next up, Brighton before the international break.