Jurgen Klopp was understandably in a disgruntled mood as he attempted to reflect on Liverpool's Europa League loss, despite some very noisy surroundings.
Here are five key points from the manager's post-match press conference…
"Not good enough" and a point wouldn't have changed that
There was no dressing up Liverpool's performance by Klopp. The Reds scarcely looked like scoring against Toulouse, who lie one point above the relegation zone in Ligue 1.
The manager said the defending "was just not good enough" and that Jarell Quansah's goal standing "would have felt better in the table" but "wouldn't have made the game better."
So what went wrong?
Klopp had a few initial views on where Liverpool were lacking. He commented: "It's well deserved to lose because they won pretty much all the decisive challenges, battles.
"We had too many situations where we should have won the ball [but] we didn't.
"On top of that we gave the ball easy away at least twice, one is a goal, the other one I'm not sure if it's a disallowed goal.
"Counter-attack – third goal, last line too deep"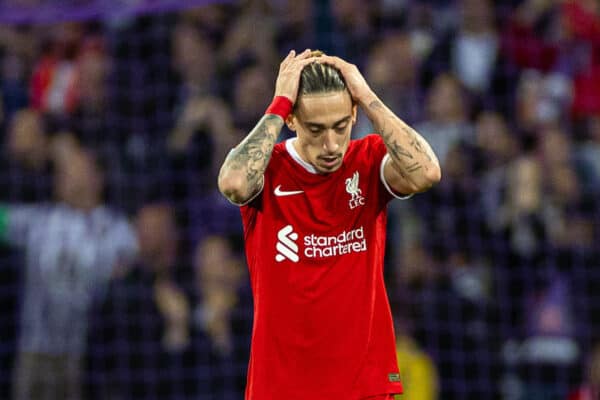 Why Klopp isn't concerned about his team's sharpness
Despite the draw vs. Luton and loss in France, Klopp insisted he's "not concerned" about his team.
However, the boss did add: "I'm actually a bit more concerned about that I would have loved us to play better together, that's my main issue tonight. In a football way, more aggressive.
"I'm not concerned, in the end we were intense. The problem is in a football game you have to do the decisive things in the right moment and because we cannot, we concede the goals we concede."
The handball decision was "interesting"
That's one way to put it. The manager reacted to the late disallowed goal, saying: "I saw now only the video back and for me, it's not a handball, but how can I decide that?
"It's pretty long ago before we scored the goal. To be honest, I thought 'eh, where's the free-kick'?
"That's interesting."
Finally, a word on the setting
The Stadium de Toulouse was bouncing on Thursday evening, but there clearly hadn't been enough thought put into the press conference's location.
Klopp and the reporters could barely hear each other talk, prompting the German to ask: "Who had the idea to do the press conference here?
"That would be really a interesting question, wow."
This was because UEFA's organisation saw the press conference take place in a tent across the road.
Therefore, Klopp and the journalists had to fight through crowds to get there, all for the press conference to be almost inaudible to those in the room.
---
* Remember to subscribe to This Is Anfield on YouTube to watch every LFC press conference in full.