Paul Tierney will referee his first Liverpool fixture since the controversial 4-3 win over Tottenham in April, the Premier League have now confirmed.
Tierney has not refereed any Liverpool game since the fallout of Jurgen Klopp's comments on his officiating over six months ago.
Klopp appeared to imply bias from the 42-year-old for a series of decisions against the Reds, complaining after the game: "I really don't know what he has against us, he has said there is no problem but that cannot be true."
The manager was booked for celebrating in the face of fourth official John Brooks after Diogo Jota's late winner in that game, with Klopp claiming Tierney's comments while showing the yellow card were "not OK."
He was later charged by the FA and, after apologising to Tierney, was banned for two matches – the second of which is suspended until the end of this season.
Tierney has been involved in Liverpool fixtures since, but Sunday will be the first time he has refereed the Reds in the wake of that controversy.
The Premier League have confirmed Tierney will be referee for Liverpool vs. Brentford, with Stuart Attwell appointed as VAR.
Tim Robinson is fourth official, Scott Ledger and Mark Scholes assistant referees and Harry Lennard will assist Attwell in the VAR booth.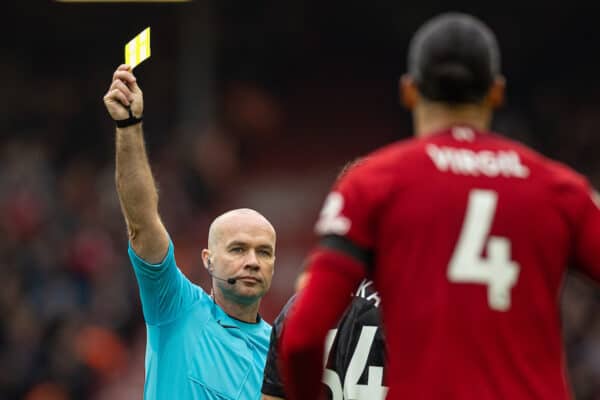 In total, Tierney has refereed 25 Liverpool games – the second-most of any club, behind only Man City (28) – with the Reds winning 13, drawing eight and losing only four of those.
There has been no shortage of flashpoints in that time, including booking Andy Robertson for his involvement in an incident that saw linesman Constantine Hatzidakis elbow him in the chin during April's 2-2 draw with Arsenal.
After another 2-2 draw between Liverpool and Tottenham in December 2021, Klopp told Tierney: "I have no problems with any referees, only you."