Trent Alexander-Arnold's recent performances in midfield for England have once again opened up the debate about his best long-term position at Liverpool.
The 25-year-old grew up as a midfielder in the club's academy and operated in a variety of different roles before making it into the first team as a right-back.
He has made 287 appearances for the club and has become one of the best players in the world in that position, but questions have always lingered about whether his attributes could be put to use further forward.
Alexander-Arnold's own comments last week indicated that he feels his strengths lie in midfield, suggesting that he can demonstrate his "skill set" when afforded more freedom.
David Lynch (@dmlynchlfc), Sam Millne (@sam_millne) and Adam Beattie (@beatts94) are here to give their verdict on the future of Liverpool's supremely talented No. 66.
Southgate using Trent in midfield brought the debate to the table again, what are your thoughts on the idea of him playing there for Liverpool?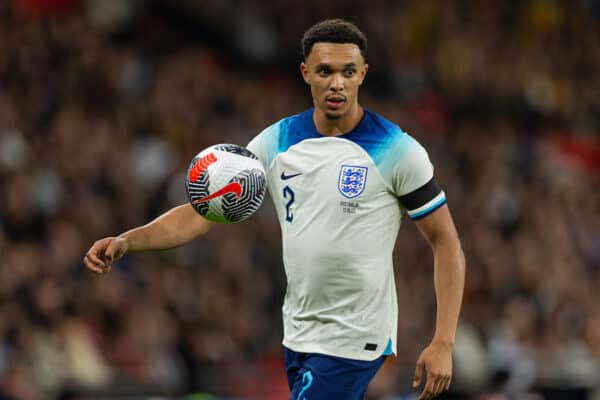 DAVID: I think he should definitely be an option there for Liverpool.
It's a position he excelled in coming through the academy before being moved to defence out of necessity, so I've never understood the consensus that formed around him only being capable of operating in midfield when he drifts there from right-back.
ADAM: I've always been keen to see how it would look – even if it were just for a few games – but until Klopp fully commits to him there in a pre-season I'm not sure how feasible it would be as a long-term possibility.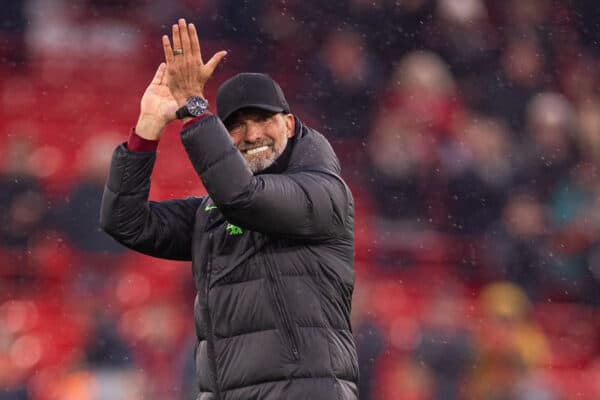 Klopp did spring the hybrid role on us earlier in the year when we needed to mix things up and it has broadly been a success, but we'd need a top-quality right-back to replace him so it definitely wouldn't be an overnight job.
SAM: I think he has the ability to play there, but having the best right-back in the world in Liverpool's system can be just as influential as having a great midfielder.
The other issue is the fact that, other than Conor Bradley, Liverpool have no good options at right-back, so you would be creating another problem there.
What did you make of Trent's own comments about his role last week?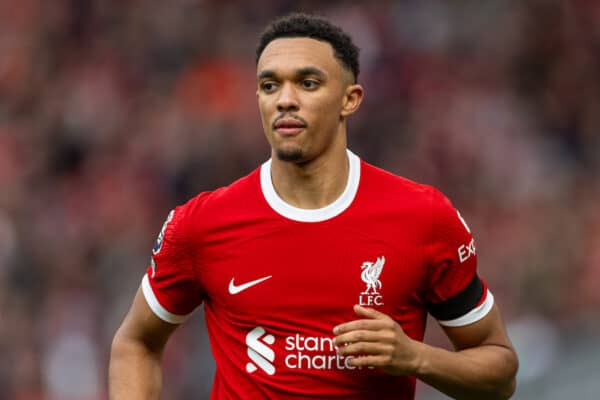 SAM: He is right when he talks about having the skillset to play in midfield.
Playing centrally opens up angles he didn't use before and, as we've seen when he has changed role for Liverpool, this is very hard for opposition teams to deal with.
However, it also makes defending more difficult as players can attack from all sides and you have to be aware of who is behind you more often.
ADAM: I thought they were really interesting, but perhaps not all that surprising when you stop to think about it.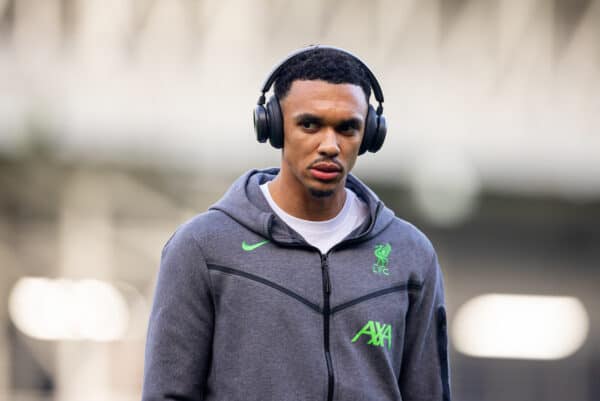 He's grown up as a fan idolising Steven Gerrard and has clearly shown he has all of the strengths to excel in the middle. I dare say he's a bit bored of the needless and tiresome scrutiny around every aspect of his defending, too!
DAVID: On the face of it, it seemed like he was contradicting Klopp, but I actually think they agree that Trent is best operating in central areas where he can dictate play.
He may not be starting games in the centre, but he spends most of the games there on the instructions of his manager.
If he was to move, where would you see him fitting into this current midfield?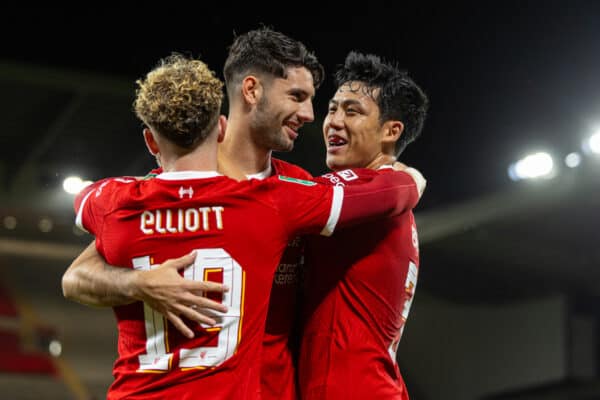 ADAM: Right now, the obvious slot would be at No.6. Purely because of the depth of quality we have in front of that and the lack of recognised defensive midfield options.
With England, it looks as though he's been more of a No. 8 and I don't doubt he's got the quality to do that.
But if we're taking him away from right-back, it doesn't feel as though we necessarily need any more options further forward.
DAVID: We got a glimpse of him in the holding role in pre-season and he can definitely do that job but I'm convinced he'd be a good fit for the right-sided eight.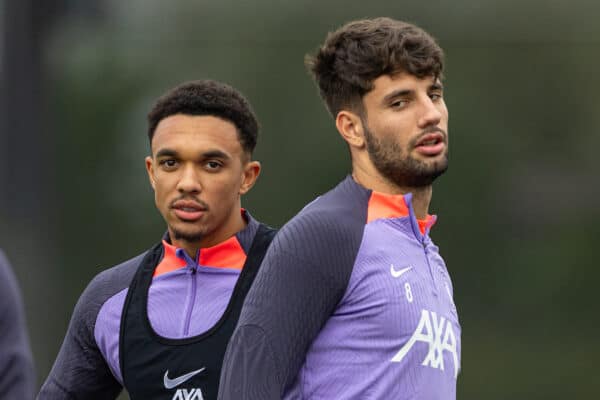 Of course, that's where Dominik Szoboszlai operates, so it's not something I can see the manager being desperate to try out.
SAM: My instinct would be to say on the right side of midfield, but Szboszlai seems to suit that role perfectly as David says.
The position that could be open is in holding midfield, and I don't really feel like we've seen much of him there properly. Perhaps, his chance could arise this season.
What are the pros and cons to taking him out of the right-back position?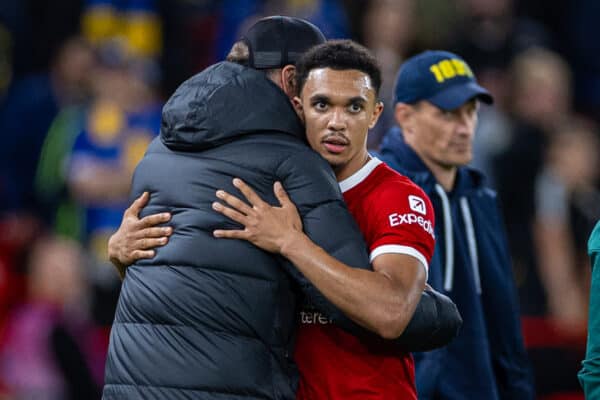 DAVID: I think the biggest pro would be that it would end the nonsense debate around Trent being unable to defend, but that's not something that should be on Klopp's radar because it just isn't true.
In terms of the cons, it'd be the fact that you'd be wasting one of the brilliant options Liverpool have in midfield by benching a current starter.
SAM: As mentioned, there's the issue of who actually plays right-back for Liverpool if he moves. Joe Gomez is a centre-half really and Bradley is unproven.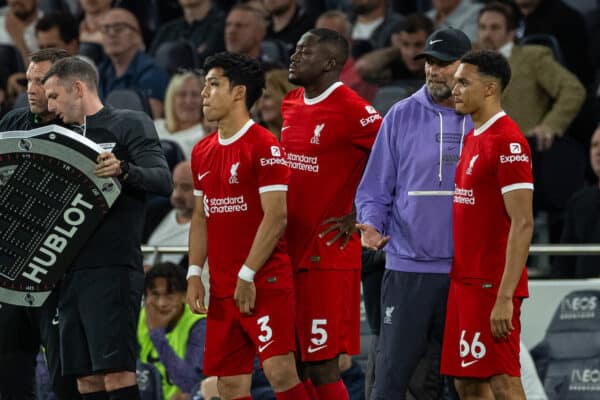 The positive is clearly the attacking output he would produce, but does this outweigh the negatives given he can already have some impact from right-back?
ADAM: The pros are that he can definitely do it, he's proved it to a degree in the hybrid role and further forward with England – so I'm told!
The flip side is that it would require even more surgery to the squad. As mentioned earlier, we would need to get a top-class right-back in to replace him and he would take up one of the slots in an already competitive midfield, as David alluded to.
Finally, if you could only play him in one position for the next five years, where would you put him?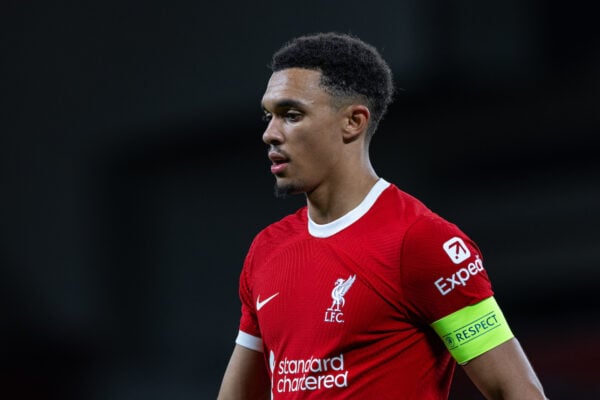 ADAM: It still has to be right-back for me, it feels reactionary to say anything else.
In an ideal world we'd get Bradley and Calvin Ramsay up to fitness and speed to allow Trent to become an option in the middle, but that is as far as I'd go right now.
DAVID: For me, it's still right-back. Liverpool have won every honour available with him playing there – why the desperation to move him?
SAM: I'd have to say right-back too, especially given that he will still only be 30-years-old in five years.
If Liverpool can add or produce a quality holding midfielder, then there's no reason to suggest he can't be influential in trophy-winning seasons over the next few years.