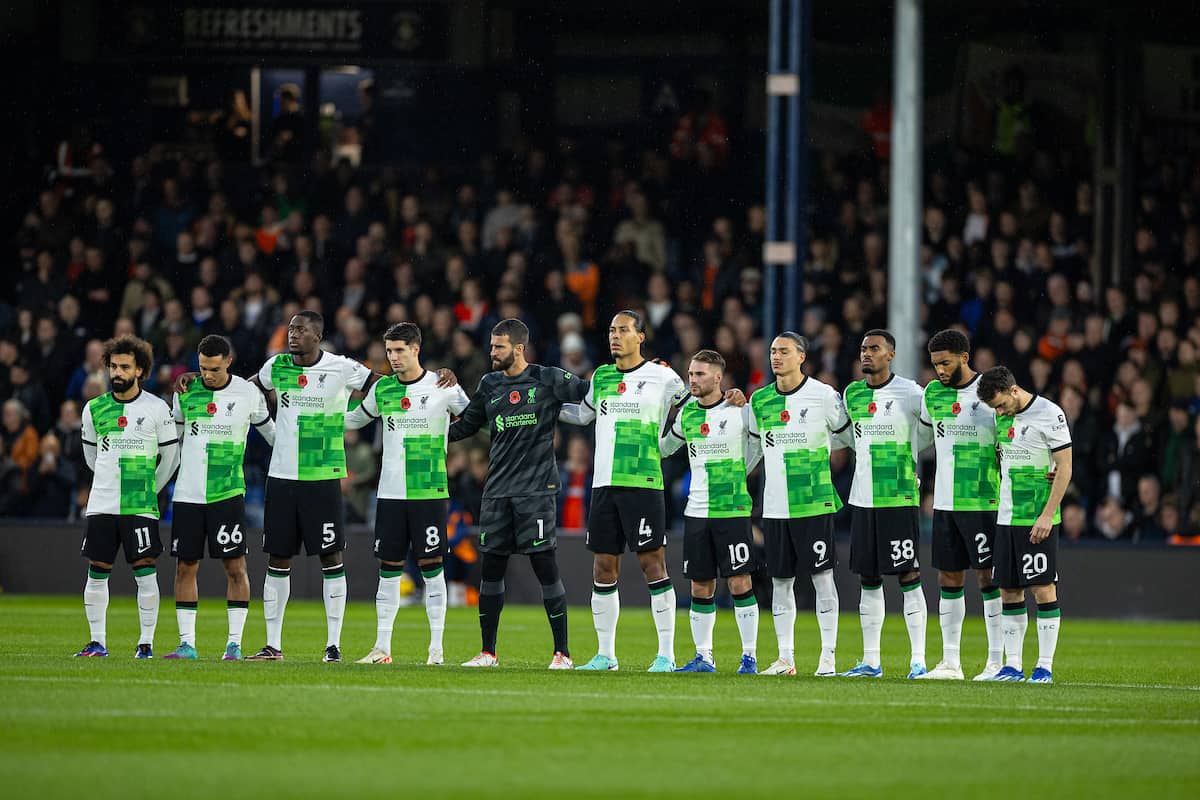 Luton Town have issued a statement regarding the chanting from a large, vocal section of their supporters that mocked the Hillsborough disaster and poverty.
Luton's statement and apology "to anyone offended by the chants" comes shortly after the Football Association released a statement outlining their stance and the involvement of the police.
The chanting, with songs including ones which refer to the Hillsborough tragedy and also poverty, was called out live on Sky Sports by Jamie Carragher during the 1-1 draw, and subsequently by national media.
The Premier League and FA announced new measures to tackle tragedy chanting last summer, including more power for stadium bans and potential criminal prosecution.
It follows a Tottenham fan being banned from attending football matches for three years after being found guilty of mocking the Hillsborough disaster.
Luton Town Football Club is saddened by reports of inappropriate chanting towards Liverpool supporters during yesterday's Premier League fixture at Kenilworth Road.
The atmosphere inside the stadium was electric for the most part of a pulsating game, in which Rob Edwards' side came close to pulling off one of the results of the season.
While we do not wish to dampen the atmosphere at our home ground in any way, we are extremely disappointed that a small number of supporters soured the occasion with chants that may be interpreted as being in relation to tragedies that have affected Liverpool FC in the past.
The Club condemns any kind of chanting that knowingly seeks to divide, and our safety and security team launched an internal investigation at the earliest opportunity.
What has quickly become evident is that a number of people may have taken part without knowledge that the words used were in relation to the Hillsborough and Heysel tragedies, and we see the route to persuading supporters not to repeat these chants in future is through communication and education.
On this basis we are reviewing CCTV and media footage from the match, and will speak to witnesses to identify individuals who may have taken part. Any perpetrators could face stadium bans and potential criminal prosecutions.
If anyone has information and video evidence that will support the investigation, please email my[email protected] with the subject 'Inappropriate Chanting'.
The eyes of the world are upon us in the Premier League, which we are all learning quickly to adapt to, and we have to remind our supporters that you are all ambassadors of the Club and it is your responsibility to behave according to the rules of the ground. This includes understanding the songs that cannot be sung in line with the Love Football, Protect The Game campaign.
On behalf of all at Luton Town, we would like to wholeheartedly apologise to anyone offended by the chants heard during yesterday's match, and will continue to work with supporter groups to educate fans on chants that are classed as tragedy abuse by football authorities, the police and CPS.
An inquest jury ruled in 2016 that they were unlawfully killed amid a number of police errors.
According to a report earlier this year, more than a quarter of children in Luton are living in relative poverty.