Jurgen Klopp is having to contend with Thursday night football for the first time since 2016, and has navigated it admirably until now, but could things have been handled differently in the lead-up to Luton?
The Reds have managed to place themselves within the early title-race conversations while making perfect starts to the League Cup and Europa League with a rotated side.
Sunday's defeat to Luton was the first real speedbump in a campaign which had surpassed external expectations to that point, and the first blip in managing the first Thursday-Sunday schedule in eight seasons.
A dearth of creative spark and impetus caused the Hatters to frustrate Klopp's side, and they were almost able to steal all three points following a well-worked Tahith Chong breakaway goal.
The manager said after the game that he took the lack of counter-pressing from his side "personally" in a damning assessment of the flat performance at Kenilworth Road.
But was there anything we could have done differently? Or is this simply part and parcel of the self-inflicted predicament we find ourselves in as a result of last season's shortcomings?
Warning signs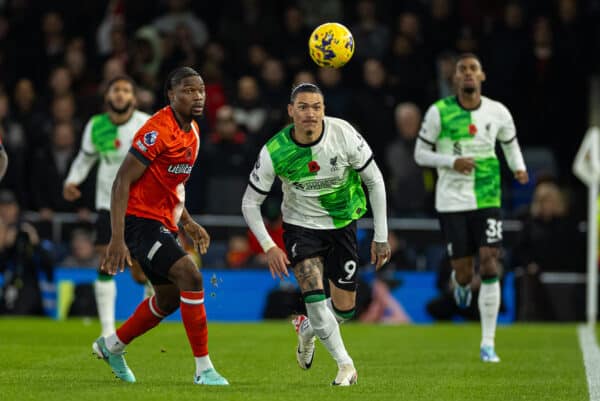 Liverpool have become renowned for their relentless energy and the foundations which led to them lifting every trophy in sight were built upon harrying the opposition and grinding them down.
To last any length of time in a Klopp side you must quickly accept that your role will not simply be restricted to one avenue, and that the team must always be greater than the sum of its parts.
Everything is your responsibility, in both directions. You can't simply point elsewhere when something goes wrong and mistakes spell disaster.
Luton had more joy on the break than most have had against Liverpool this season, and that simply shouldn't be the case from a side who are destined for a season-long scrap for survival.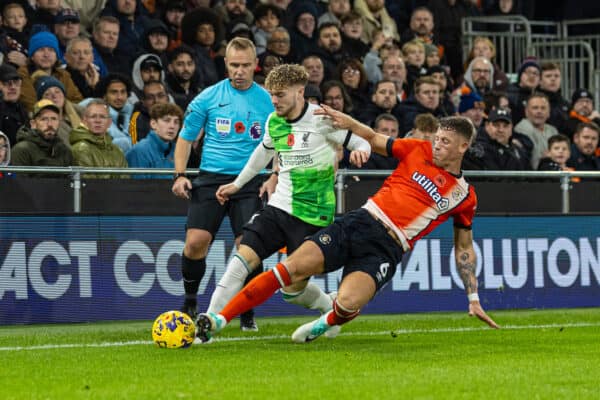 The Hatters have been mocked for their seemingly ambivalent approach to maintaining their Premier League status for 2024/25, but the Reds made them look as though their lives depended on it.
"What I didn't like particularly was, first half, we had 0.0 counter-pressing," Klopp bemoaned in his post-match press conference.
"That's something I take personally, to be honest. I told the boys it's certainly not OK. I know they actually want to do it, the question is why they didn't do it, so I have to figure that out."
And figure it out he must, because Liverpool have another European trip on their hands this week before taking on Brentford ahead of the international break.
Unwelcome hurdles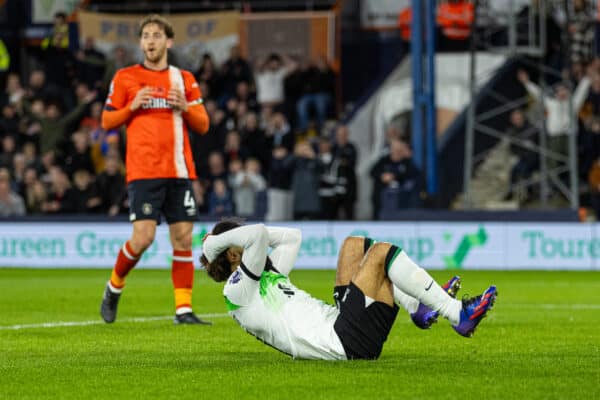 If Liverpool lacked their usual vigour then the first place to look is the previous game.
The Reds came through a wet and windy affair on the south coast to sneak past Bournemouth and into the quarter-final of the League Cup just four days before Klopp's first trip to Kenilworth Road.
Joe Gomez, Dominik Szoboszlai and Mohamed Salah were the only players to keep their place from the Vitality Stadium, with the latter two having also started seven days earlier at home to Forest.
It was the first game in which Szoboszlai showed signs of being human, with the Hungarian looking off the boil from the outset and being hooked with 25 minutes left on the clock.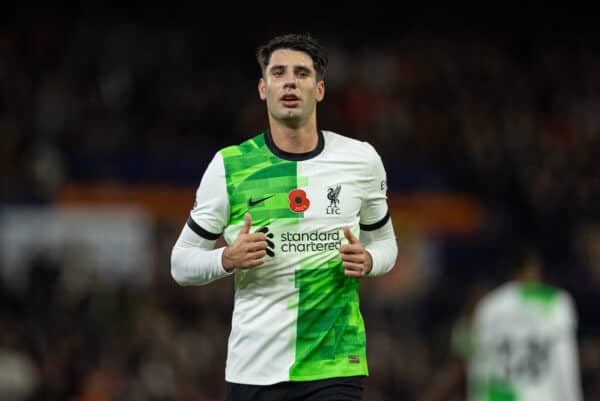 Salah was also a far cry from the force he can be at the peak of his powers, cutting an isolated figure in a side that set up far too narrow for what the occasion required.
Liverpool can miss chances and come up short in challenges they should bypass with ease, but what Klopp won't be willing to accept is a lack of intensity from a group of players in which he has built up so much trust.
The fact he concedes "I know they actually want to do it" is particularly interesting. It suggests that even he knows that there is a glitch in the system that will require some troubleshooting.
It is perhaps easy for us to say that the squad could have been used more effectively and accuse us of being the architects of our own downfall, but did Klopp realistically have much choice?
Tied hands or planning issues?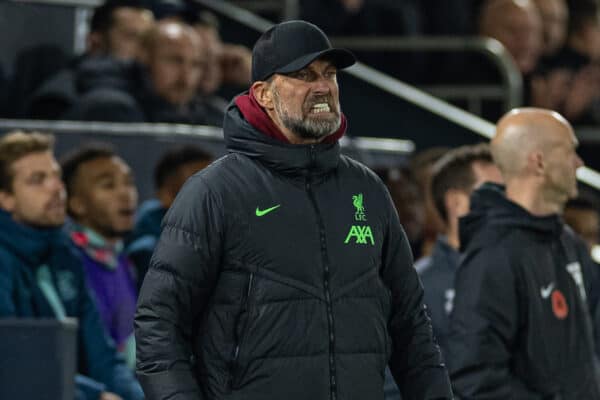 An untimely injury to Ben Doak meant Mohamed Salah had to go three times in eight days having come on as a substitute at home to Toulouse another three days before that run.
Klopp admitted himself that Kostas Tsimikas "cannot play all the games" at left-back in Andy Robertson's absence, meaning Joe Gomez was required to play 157 minutes plus injury time across the two fixtures in different positions.
Curtis Jones picking up a knock as soon as he could return from his ban to the league picture made the midfield puzzle a trickier one, too.
It begs the question of how could the situation have been made easier for the manager, and the answer isn't particularly straightforward.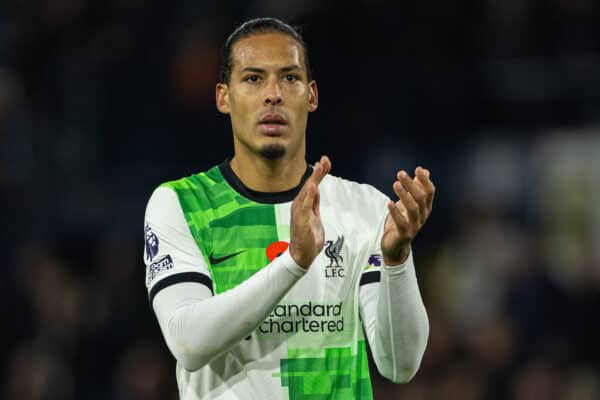 Liverpool have rightly been praised for showcasing their depth of quality by fielding a rotated side that has been capable of breezing through a Europa League group stage, while providing valuable rest to those who need it.
Does the solution require the club to bolster the youth options? Or to show more faith in those on the periphery? Or a mixture of both?
The manager has always favoured a smaller squad, and the reason his players are willing to run through brick walls for him is because they can all quantify their contributions in one way or another.
To spread the minutes thinner than we already have done would require sacrifices that Klopp and his players might not be particularly keen to make.
Whichever way the boss chooses to play it, the schedule isn't about to get any easier for the Reds and two-game weeks are set to become the norm after the November international break, after which we will push straight through to March.