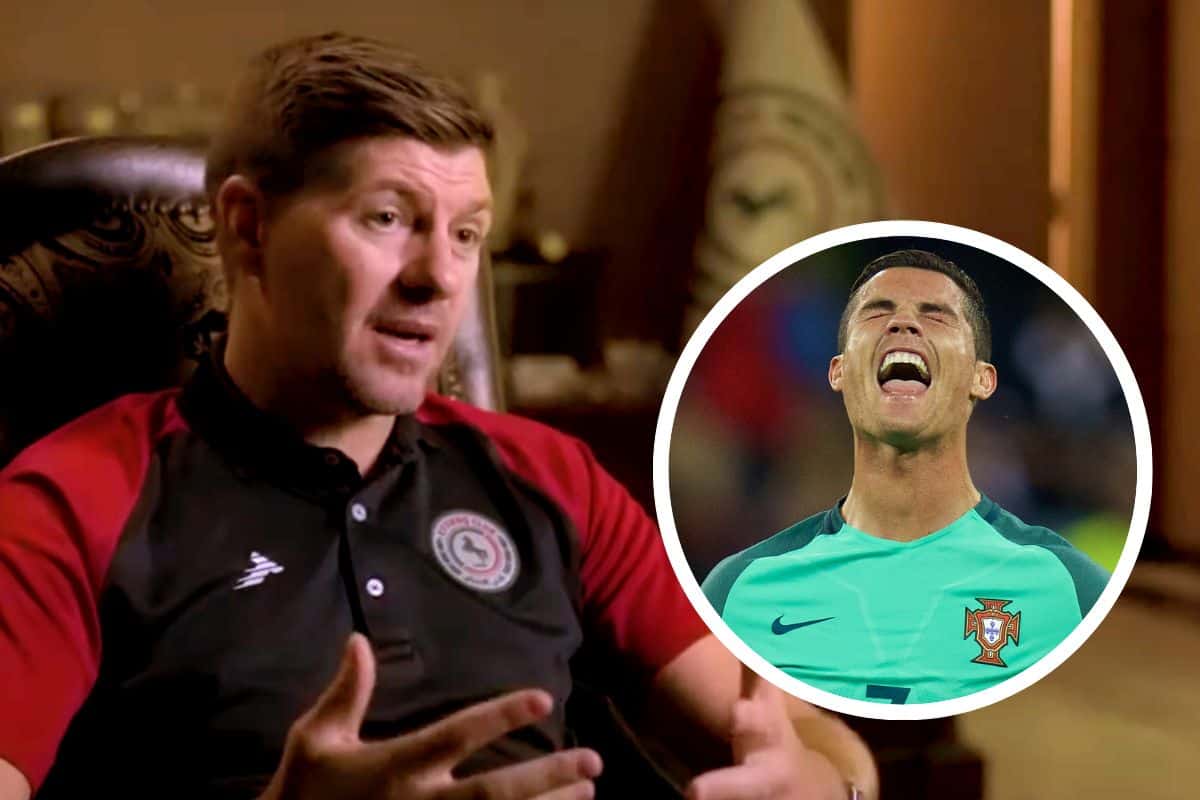 In a bizarre interview, Steven Gerrard has contradicted himself by naming Cristiano Ronaldo as the greatest player ever, despite previously giving Lionel Messi the title.
Gerrard has had a strange career following his retirement from playing in 2016.
Success at Rangers brought the Aston Villa manager's job, but he was sacked after less than a year and is now boss of Al Ettifaq in Saudi Arabia.
With the new role has come the duty of effectively being an ambassador for the Saudi Pro League and the country.
With Ronaldo playing in the league also, Gerrard has been praising his former Portuguese rival, naming him as "the GOAT" (his own words), despite previously saying otherwise.
In what was a bizarre interview on camera, Gerrard unnaturally said: "The arrival of the GOAT, as we call him, Cristiano, him arriving in January [was] obviously a huge signing.
"[He has] still had a got of football to offer so, from afar for six months, I was looking in at Cristiano's results."
Liverpool's ex-skipper added that he thought from the moment Ronaldo joined Al Nassr, "the league around the world become a very popular talking point for everyone."
The former No. 8 has even previously admitted on camera thinking that Lionel Messi is the greatest player of all time.
Does he know there can only be ONE greatest of all time (GOAT)? pic.twitter.com/kwY29FNrWd

— Tom Dunn (@tomdunn26) November 19, 2023
Gerrard is one of the world's best paid managers, despite coaching in a relatively weak league. With the money comes the job of Saudi promotion and many Liverpool supporters have been reacting similarly.
I wonder if it's in their contracts that they have to call Cristiano Ronaldo the GOAT after the actual GOAT chose MLS instead. https://t.co/TdFTO5kscI

— James Nalton (@JDNalton) November 19, 2023
Never felt so let down by a childhood hero. Sold his soul. https://t.co/xnK9iuy8yw

— Henry Jackson (@HenryJackson87) November 19, 2023
The way in which all of these people I used to respect have completely sold their souls for money they don't need is so very depressing. https://t.co/fE2Yd3zgRh

— And Could He Play (@andcouldheplay7) November 19, 2023
Honestly, everything this man has done since leaving Liverpool is just like taking a sledgehammer to my childhood. https://t.co/I89Vd7Pmng

— Justin (@juza_23) November 19, 2023
Gerrard working very hard to undo every part of the childhood hero status https://t.co/eGlNDx8yeN

— Matt Smith (@smithy_red) November 20, 2023
I know money changes people but stevie come on. You were already a millionaire. He has said messi countless times?

— Akg (@Akg_T9) November 19, 2023
Wow money really can open someone's eyes

— Jaziz (@jaziz1989) November 20, 2023
That Saudi money changing his mind ?

— RichieLFC (@Nwowolfpac2) November 20, 2023
Amazing how money can make you change your mind, isn't it?